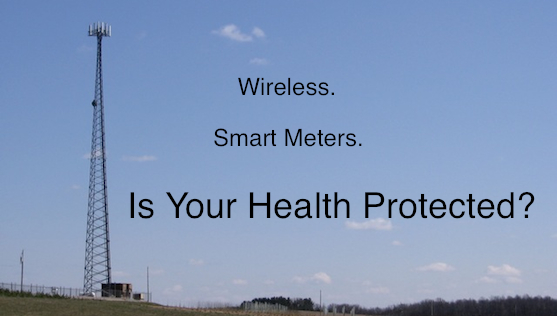 It is absolutely critical that all Americans actively support biologically-based safety limits for radiation from wireless devices.

Why should EVERYONE actively support biologically-based safety limits for radiation from wireless devices and therefore sign the petition to move responsibility for RF safety limits to an agency responsible for protecting health and the environment

Because YOUR health could be on the line. Please take the time to watch the videos below about the toxic effects radiation from wireless devices has. Surely your health is worth 20 minutes or so. Most people are completely unaware of the toxic soup they live in which might cause them to experience headaches, poor sleep, and various other symptoms. The damage is progressive and dose is related to physical characteristics, including mass, and 24 hour exposure levels. These exposures have changed rapidly over the last few years.

Cellphones cause cancer even on standby (the setting wherein the phone receives calls). The short news story centers around young women with breast cancer from their cellphones, compelling medical imaging included. Risks of testicular, abdominal, and pancreatic cancer may well be elevated because cellphones are typically carried nearby.

Fetal exposure to cellphone radiation linked to later behavior and cognitive problems similar to ADD in mice - a controlled study. These findings support the findings of a large (over 13,000 child) epidemiological study that found that children whose mothers use cellphones during and after pregnancy are at greater risk for behavior problems

Cardiac Arrhythmias in response to a DECT cordless phone unequivocally documented. Many people report similar effects from wifi and are, in fact, excluded from social events and civil society by the ubiquitous presence of wifi and sources of wireless radiation.

Radiation dangers in your home - Most people have no idea! You do have control over many of your most immediate RF radiation exposures. Watch this video to get an eye-opening look at how much radiation beloved wireless devices emit. Biologically the levels are not low.

Why wifi should not be in schools

Many people are paying an awful price for the world's love affair with wireless technology. Our lack of meaningful biologically-based RF safety limits are forcing individuals who have become overexposed and therefore highly reactive to RF radiation to seek shelter in rural areas, undeveloped areas, or areas with limited wireless availability.

The FCC has shown again, even as it opens a docket to determine whether it should take another look at its RF radiation limits, that it cannot do so in an unbiased manner.

The FCC's primary function is to promote telecommunications technologies by licensing providers of these technologies.  By its own statements, its expertise is not public health.  Public health is too important to let the fox continue to guard the henhouse.

It is time for the responsibility for public health to be separated from the promotion of the wireless industry.

With the almost-ubiquitous exposure of the entire US population to RF radiation, it is past time that US policy for non-ionizing radiation protection follow the model in place for the ionizing radiation protection.  

It is extremely important that EPA's research funding and RF regulatory authority be unequivocally supported, because the FCC cannot both promote wireless technologies and regulate RF radiation.  This inherent conflict was recognized when the Atomic Energy Commission was disbanded and its prior development/promotional responsibilities were separated from its responsibility to protect the public health and safety.  (The former was transferred to the Department of Energy and the later to the Nuclear Regulatory Commission.) 

A recent report released by The EMRadiation Policy Institute (http://www.marketwire.com/press-release/-1770139.htm) shows not only that the FCC has not modernized its RF radiation safety limits to reflect current science, but that it does not even enforce its own outdated thermally-based RF radiation safety regulations, highlighting the need for another agency to take over responsibility for the public health. A Wall Street Journal investigation reports similar findings with one in ten towers out of compliance and experts concerned that out of compliance towers will be transmitting in the thermal range by around the end of 2015.

Until the late 1980s the EPA carried out it own non-ionizing radiation research program.  Unfortunately, the EPA's mandate for developing non-ionizing radiation safety regulations was never fully funded. Its non-ionizing radiation regulatory authority has been eroded by industry lobbying, most significantly in the lead-up to passage of the Telecommunications Act of 1996 which gave the FCC sole authority for adopting RF safety regulations.

Hundreds of comments to recent FCC dockets (http://apps.fcc.gov/ecfs/comment_search/input?z=iw0f and search proceedings 03-137 and 12-357) support the need for biologically-based RF radiation safety limits NOW!

Additional information available at the petition site.

Sign the petition to move responsibility for RF safety limits to an agency responsible for protecting health and the environment

AND

the Protect Birds & Health petition asking Congress and the President to start protecting our health and the environment from radiation from wireless technology.